Mission Statement
Breaking Chains Foundation & ministry was set up by Salem, Massachusetts resident Pastor Dr. Joan Rathe in 2002. A professional teacher, Christian songwriter, Performer, and Mother inspired to create and integrate a more cohesive system servicing those in need of assistance and support under the guidelines of Breaking Chains Mission Statement.

Breaking Chains was born March 30, 2002 as a memorial to Joan's daughter Melanie Rachelle Thompson who was a homicide victim of a known drug dealer. Melanie was a young woman who suffered most of her life from Post Traumatic Syndrome, addictions, depression, abuse, rape, and in the end a Victim of a Drug dealer, which ended her young life.

In December 2004 Melanie's older sister Lauren Figueroa was added to this Memorial.
Lauren was an RN and had been working with street addicts. Contacting Hepatitis C she lost her life tragically in December of 2004.
Lauren contributed actively to Melanie's foundation offering her Nursing skills to those in need. Through the establishment by Joan, Lauren's Mother a new law in Massachusetts promoting with success changes in the legal system for severe sentencing for drug dealers was passed. Breaking Chains will perhaps prevent another fatality of a life, and another family unspeakable grief.



In my quest to reach out to others that have gone through the painful loss of a loved one, my eyes and heart have been opened to the importance of other causes. Two of these that have been strongly shared have been Domestic Violence and Bullying. Anyone interested in doing a banner or link exchange please do so or contact me. There are highlighted/banner links throughout this site for viewing.


Defeating Drug Use with God's Word
DEA Get Smart About Drugs
Drug Related Deaths
Celebrity addicts: Who dies, who survives, and why?

Eric Bolling Discusses Son's Death From Opioids in Emotional Video: 'We Never Saw It Coming'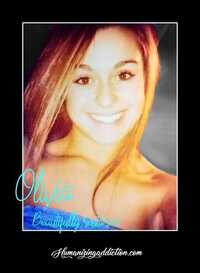 Humanizing Addiction 💜💜💜
Olivia Askins......My daughter 💜 I woke to find her old soul had left her young beautiful body on our living room couch. She fought the battle of Addiction for 3 years. With a year and half clean time in those 3 years. When the dealer decided to charge her $45 for straight Carfentanil. 11 X's the lethal dose.
Forever Young and Too Beautiful For Earth!
12/15/1995 💔 04/27/2017
~~~ 🌹🌹🌹 ~~~
I HAVE A CHOICE ~ Olivia Askins
All alone I fall to pieces, the hope for a great future ceases.
I look around, no one is here. I know the end is drawing near.
A bag and a needle, my only friend. Will surely lead me to the end.
She loves me more than any other, she tells me to betray my mother.
When I try to leave, she calls my name. Always keeping me in a neverending game.
I'm locked in shackles, I'm tied in chains. I inject a poison deep into my veins.
Miss Heroin says I can leave when I want. But when I try she begins to haunt.
I am convinced I will die without her warm touch, and when times get hard, she is my crutch.
Then one day I hear a voice. It tells me I've got a choice.
I can choose her over all that I love, or I can ditch her and rise above.
I sit down, I say my goodbyes. She begs me with tears in her eyes.
The chains untie, the shackles unlock. No longer am I fighting the clock.
I look around, everyone is here.
A beautiful bright future I can see clear.
~~~ 🌹🌹🌹 ~~~
Olivia was an intelligent, loving, caring young lady. She had a full 4 year academic scholarship to Allegheny College, and every other college she applied to. She loved to spend time with her family, that was priority to her. She was my very best friend and if you just met her she was pretty shy, but once she opened up, boy she would make you laugh hysterically. She left behind a very broken hearted brother, grandparents, cousins, aunts, uncles, many friends, and very broken parents, and now has a niece her that I know she loves with all her heart but now can not be a part of her life 💔 God please help us all left behind and give us strength to continue to go on. Please put an end to this senseless devastation! ---I love you more!!
Olivia's Mom 💜🦋😘
---
---

My name is KoKo Kelly Ann, This is a picture of my dear Brother Michael MacDonald that I miss so much.
It's been 10 years-120 months-521 weeks and 3652 days.
Your house is gone, clothes donated all your possessions gone just your picture remains along with my memories. Most days it's not enough and a black hole will forever be in my heart. Sometimes I feel this has effected me in such a way I'll be broken forever. Everyone once in a while I'll run into someone or someone will speak your name but everyone moves on except I'm stuck with this pain that never goes away. Life just throws these things at us that we try and do our best to go on and figure it out day by day but no one could really ever understand how bad missing you really feels. Today like everyday I'll think of you and remember something that makes me smile even though I want to crawl in a hole. I know I'll get through it and this day will make me stronger for tomorrow. Your heart is around my neck and I'll never take it off. 💔miss you always.
---
On the anniversary of my brother I hate to say that the disease of addiction has taken my cousins daughter. How will she go on... I fucking hate this disease. Another young life in our family gone to this disease that knows no bounds, it doesn't care she came from a good family, it's doesn't care how much money they had ... Heroin he is cunning and will steal your children in a split second. If your gut says something isn't right then it's NOT!!!